How To Create a Successful Strategy for Your Marketing Events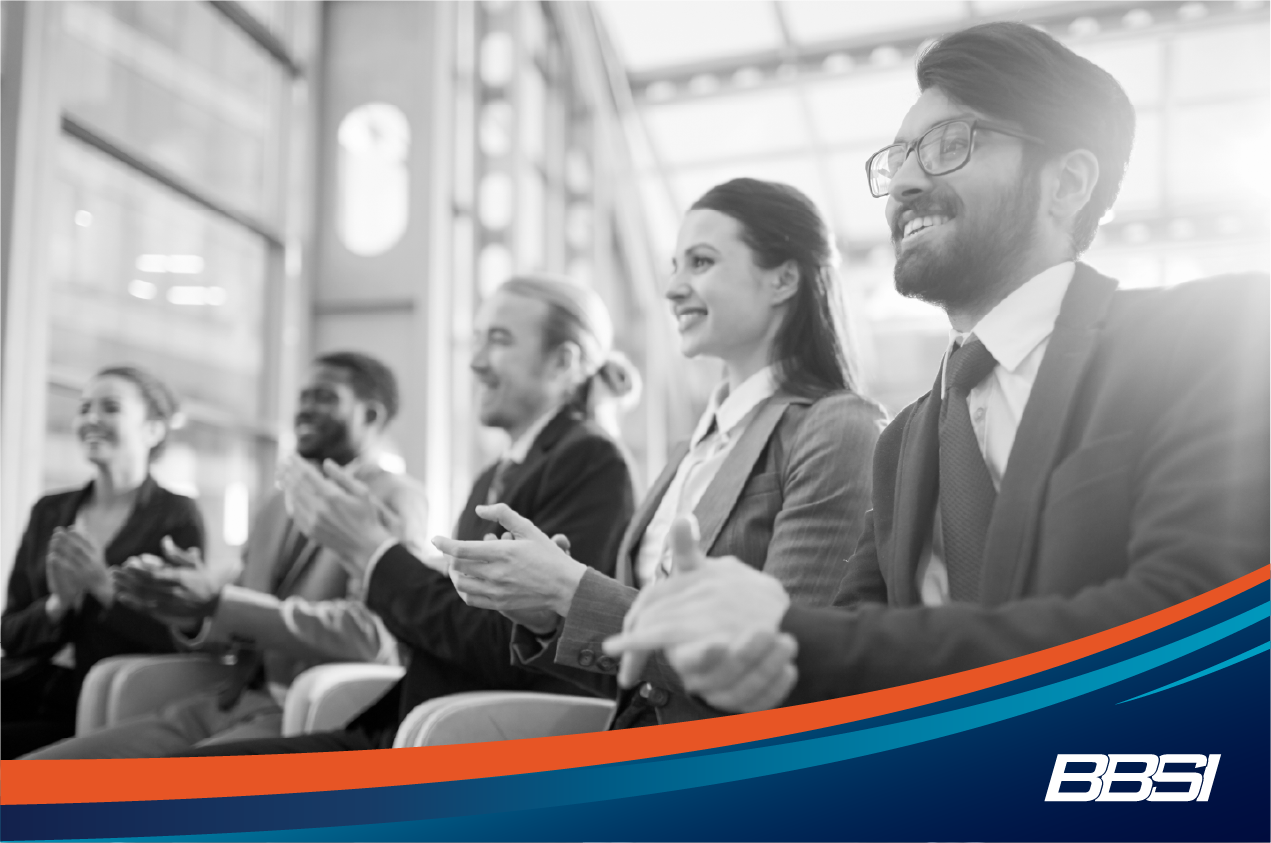 Although "omnichannel" is a popular term in marketing right now, one avenue for engagement that should never be forgotten or undervalued is in-person connection. Few interactions deliver such significant impact when it comes to building brands, one-on-one relationships, and communities. Given the widespread adoption of remote work, your in-person engagements are more important than ever.
Hosting events is a great way to create and evolve your partnerships and customer relationships, but given the effort and resources involved, a focused event strategy is essential to boost your return on investment (ROI).
So how do you develop a successful marketing event strategy that broadens your network and generates new referrals? Here, we'll provide an overview and best practices to adopt before your next big event.
What is Event Marketing?
Event marketing is a type of experiential marketing with the goal of delivering "memorable and innovative customer experiences to create deep emotional connections between the customers and the brand." In addition to customers, events that bring together a community of partners are also essential to brand building.
Whether your event is a traditional trade show, an informal networking mixer with cocktails, or something more grand, these experiences allow you and your brand's representatives to engage with important partners directly, create new relationships, and deepen existing ones.
Which Type of Event Marketing is the Most Successful?
While events can be virtual, the importance of in-person interactions can't be understated. Despite the recent shift to remote work environments, events remain one of the most effective marketing vehicles.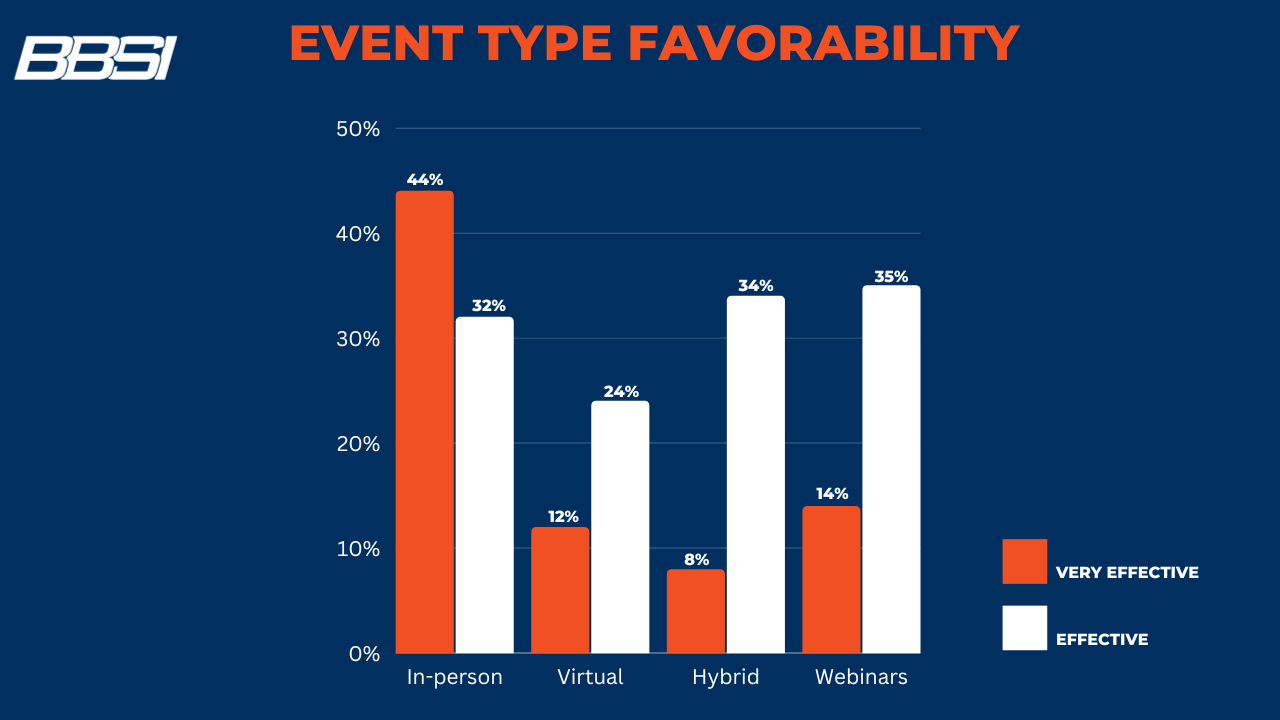 In a survey evaluating which event types global marketing leaders favored, responses showed:
In-person: Considered "very effective" by 44% and "effective" by 32%
Virtual events: Considered "very effective" by 12% and "effective" by 24%
Hybrid events: Considered "very effective" by 8% and "effective" by 34%
Webinars: Considered "very effective" by 14% and "effective" by 35%
Events are an opportunity to demonstrate who you are and the benefits of working with you. When you're able to get in front of partners and customers, their takeaways become more tangible. In-person connection fosters a better sense of belonging to a supportive community, and event marketing success occurs when attendees walk away with that sentiment alongside a new or reinforced perception of your brand.
Why is Event Marketing Important?
Event marketing is important because it's difficult to build a community through one-on-one calls or one-sided automated messages. Events break down those barriers, helping brokers evolve their introductory calls into stronger connections across a wider audience.
Event attendees often focus more on the development of rich relationships rather than transactional ones. They have chosen to attend to make new connections and learn from new relationships. As a host, it should be your goal to leverage this intent to foster more conversations and deliver a quality experience that sticks with attendees long after they leave.
Benefits of Event Marketing
Successful event marketing keeps you at the forefront of attendees' minds and helps maintain their interest in future engagement opportunities.
For example, you can form a small group based on the best conversations you had at a larger event and hold regular meetings with them to share knowledge and resources that help them accomplish more and provide greater value to their customers.
Everyone remembers being introduced to something impactful, like money-saving resources to share with clients or a quick guide to new industry legislation. But more importantly, they remember who introduced the resource or facilitated the conversation.
The most important benefit this achieves is increasing your referrals. The next time someone has a need that could be met by your expertise and services, your contact is much more likely to make an introduction.
Beyond referrals, event marketing also helps you:
Increase brand awareness: Brand awareness starts with recognition. Your aim should be to communicate the culture of your company and the value of your partnership, two elements at the core of an event marketing strategy. Event marketing is about transforming your brand into a tangible experience that turns awareness into sentiment and meaningful association.
Stay relevant: Brand awareness on its own doesn't achieve relevance. That requires consistent event quality and continually feeding your partners new, topical knowledge and resources. Maintaining relevance within your network means you're always part of the conversation, which keeps you relevant in referral conversations.
Determining Your Event's Target Audience
Creating a marketing event doesn't begin with determining the event's experience. First, you must identify your target audience based on the type of people you wish to attend. These considerations and your target audience's shared demographics inform attendee persona profiles.
Attendee personas are built the same way as customer personas:
Use the data you have: If you've held events or run marketing campaigns before, past attendee and recipient lists are the first places to research. These lists contain most of the profile data you'll need to compile, analyze, and segment into smaller groups. And, if they've attended one of your past events, they may be more likely to do so again.
Narrow the scope of your target audience: Trying to appeal to too many people often results in not appealing to anyone. To craft an impactful event experience and generate interest among potential attendees, you need to select a smaller segment with more in common.
Listen to industry conversations: What topics are the most popular for your ideal event segments? You can turn to sources like industry publications, social media channels (e.g., LinkedIn), and other trade shows' keynote speakers for topics that might catch your audience's attention. Once you've gained enough brand awareness and relevance, you can poll potential attendees to understand their interests directly. Their involvement in the process fosters more of a community feeling for everyone.
Based on these persona profiles, decide which types of events and experiences are most likely to resonate, as this will result in higher attendance rates.
For example, suppose you're looking to build a supportive community. In that case, you should invite brokers, clients, and potential customers who demonstrate a consistent eagerness to learn and who willingly provide their own expertise and helpful resources.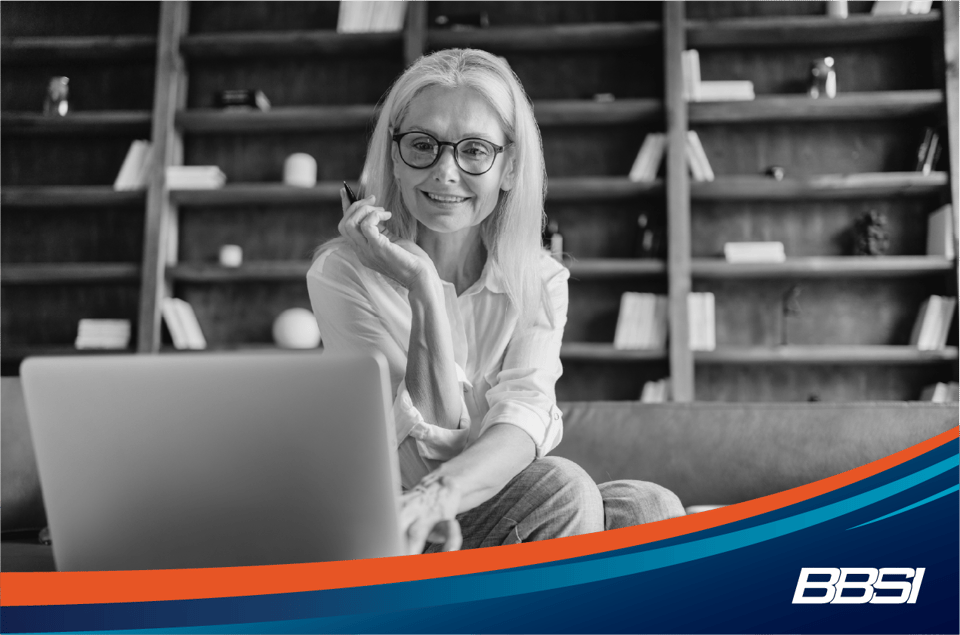 What is Event Strategy?
Event strategy describes your approach to a series of events designed to keep attendees continuously engaged. In many ways, it parallels new client prospecting and onboarding.
For example, you wouldn't begin a conversation with a prospective client by sending them a contract. Similarly, your partners and clients should progress gradually through the event sequence to nurture the relationship.
Your attendee persona profiles will help you choose which event types are a good fit for your audience. Some segments may prefer a smaller, local, and more casual event, while others may be uncomfortable with the conversational spotlight, which fewer attendees create. In contrast, large regional events require less active participation, and if they involve multiple sessions, first-time attendees can engage with their interests on their own terms. Yet some people may feel lost in the crowd.
Audience personas will help you narrow down these preferences, but you may need to modify your strategy per person. Regardless, attendees should feel connected to each event and the overarching program.
Distinguish Each Marketing Event and Keep It Purposeful
All interactions before, during, and after the event should feel special, purposeful, and aligned with the impression you want attendees to take away from your brand. Successful events require clearly defined goals for each touchpoint — like education or networking — to maintain interest and deepen attendees' investment in the community you're building.
Even if some partners or clients don't attend, an invitation shows you're thinking about them and are invested in their success. It also demonstrates continual activity, which reinforces your brand's relevancy.
But remember, there's no finish line to this progression. Instead, you want a circular path that continuously brings people back to new events. Not only does this help your community thrive, but first-time attendees will meet regulars who advocate for the network's benefits on your behalf.
Best Practices for Creating and Executing an Event Strategy
When planning your marketing event series, keep these best practices in mind:
1. Connect Your Event Strategy to Your Overall Marketing Strategy
Circling back to omnichannel marketing strategies, remember that a person's perception of your brand is built holistically across multiple interactions. While event marketing delivers some of the most impactful engagements, you still need to ensure your event strategy aligns with your broader marketing strategy. Start by considering:
Who you are
What you do
Your mission statement
Differentiators from your competitors
Preferred client personas
Emphasizing these foundational elements during your events will inform people's understanding of your brand, establish reasons to work with you, and encourage them to make referrals. The repetition may seem uncomfortable initially, but you'll soon develop a rhythm that makes brand education natural.
2. Set Clear Goals for Your Event
Establishing goals and metrics for each event helps you refine your approach and reach desired outcomes faster and more effectively and allows you to construct an environment catered to these outcomes. But first, you'll need to understand the event's:
Purpose
Target audience
Key performance indicators (KPIs)
Cost vs. long-term earning potential
Even if your KPI is establishing one relationship with long-term potential, achieving that metric will demonstrate ROI for the event.
3. Set a Timeline
Brokers work in a fast-paced industry, so it can be tempting to schedule and plan events in a rush. Instead, you should establish long timelines that allow you to create the perfect event — sometimes up to six months or more. This amount of lead time gives you opportunities to evaluate:
The best time of the year to host the event
Industry or competitor events that might conflict
Venue availability
Moreover, professionals with busy schedules often need advanced notice to ensure they can attend. They'll appreciate the longer timeline, and you'll enjoy higher attendance. Slowing down and investing time in the activities that matter will produce higher-quality events.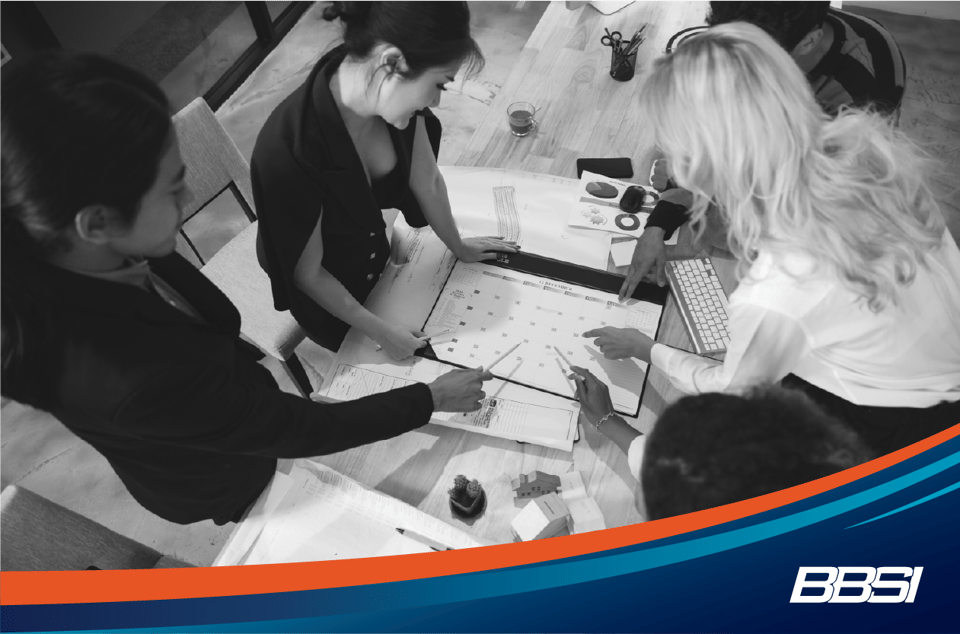 4. Understand Your Resources
Your available resources will determine several event factors and inform your strategy. Before getting started, step back and evaluate your:
Timeline: How much bandwidth can you dedicate to developing a creative, high-quality strategy?
Budget: What can you spend?
Team: Who can you call on to help plan and host the event? Who are the stakeholders?
Presenters: Who can be a keynote speaker? Are they inside or outside your organization? Consider which featured attendees would resonate with your audience and create community buzz. If possible, ask your clients to get involved. Their presentations provide value and serve as case studies of your impact, reinforcing brand awareness.
Materials: What educational and promotional materials do you have available? Can you produce more in time for the event?
5. Make Your Events Valuable and Interesting for Your Target Audience
The rise of remote work and virtual events, and recent societal changes, have made people more interested in specialized events. It's no longer worth attending an event without a clear purpose.
To combat this, assess your event's value and the benefit you are providing to attendees. Topical relevance to today's challenges is crucial. If your events continuously lack purpose, people will find them increasingly irrelevant and stop paying attention.
Remember not to stress over attendee numbers. Five relationships gained from a small event are more valuable than 300 unengaged participants from a large event. Make sure the right people show up and provide value where it matters most.
6. Be Present During Your Event
Being present at your event means more than just physically being there. If you're not engaged, attendees won't be either. As host, you set the tone that determines whether an event will be successful or not.
7. Measure ROI in Relationships
Event ROI is primarily measured in relationships. Gaining at least one relationship from every event makes your events worthwhile. Each relationship adds another community member and advocate who believes in the brand you're building. In addition, long-term partnerships will help generate referrals you can use to grow your business.
8. Create a Post-Event Strategy
It is crucial to contact everyone after the event. For attendees, try to set up one-on-one calls to develop your relationship further. If someone couldn't attend, send them a message to show your consideration — it's an investment in your relevancy.
Partner With BBSI for Your Event Marketing Strategy
We help partners develop their event marketing strategies and connect them with our community of professionals and resources. We can offer PEO subject-matter-experts and BBSI clients to talk about how they've solved business challenges to speak at your next event.
We're continuously investing in the communities in which we live and work and are always looking for new members and beneficial partnerships. Our strategy is to help our partners, and we integrate that support with everything we do.
Reach out to us today to learn how you can join our community.
Disclaimer: The contents of this white paper/blog have been prepared for educational and information purposes only. The content does not provide legal advice or legal opinions on any specific matters. Transmission of this information is not intended to create, and receipt does not constitute, a lawyer-client relationship between BBSI, the author(s), or the publishers and you. You should not act or refrain from acting on any legal matter based on the content without seeking professional counsel.