Understanding X-Mods: How to Take Control of Your Premium
Workers' compensation insurance represents a significant percentage of a business' costs, making it a crucial topic for business owners to understand. The more knowledge you have about the relationship between X-Mods and your insurance premium, the easier it will be to mitigate the risks negatively impacting your bottom line.
How Experience Modifiers (X-Mods) are Calculated
X-Mods reflect your business's claims experience and history. To calculate your X-Mod, divide the actual losses (claims) incurred by the expected losses for a typical business in your industry. All businesses begin with a 1.00 X-Mod that increases or decreases over time based on the number of claims that occur.
A 1.00 X-Mod is applied to employers demonstrating losses equal to the expected loss rate. When your safety performance drops, your X-Mod increases, and vice versa. To keep workers' compensation premiums low, business owners should strive for a loss ratio (the number of losses divided by the premium) to be under 100%. Your insurance broker calculates this rate annually to determine your premium.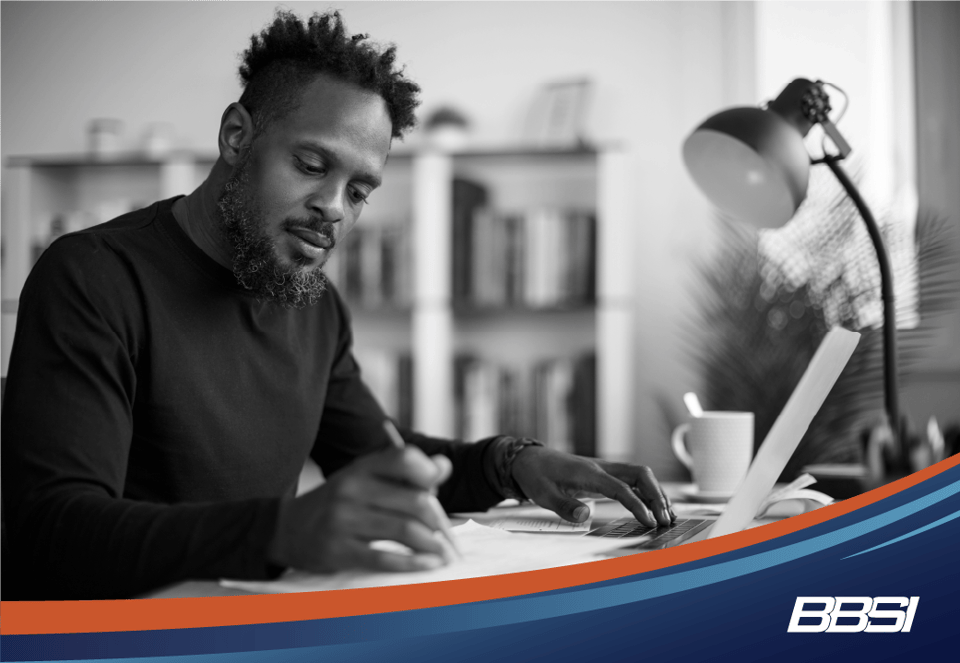 Why Your X-Mod and Premium Costs Reflect the Health of Your Business
An increasing X-Mod and the corresponding insurance premium increases are generally a sign of more workers' comp claims, which can signify underlying operational and personnel risks. Even one claim can lead to insurmountable costs and financial hurdles that have forced many businesses to close their doors.
Your X-Mod is negatively affected by the severity and frequency of claims. So even if you have a great safety program, the unpredictable incidents - however minor - will still impact your premium costs.
Understanding the reasons behind your premium increases will allow you to think critically about the root causes. Perhaps your employees are facing new hazards in the workplace, or safety meetings have become less of a priority. Once you have identified the problem, be it one or many, you can seek support to amend the issues and take back control of your premium, freeing up capital to put towards achieving your long-term goals.
Get Started Today with the Safety Meeting Best Practices & Topics to Cover ASAP blog
How Can You Effectively Manage Your X-Mod?
Depending on your business's needs and reasons for your X-Mod increase, you can focus on one, or all, of the following strategies.
1. Review workplace safety procedures
Lackluster safety procedures are a sure-fire way for any business to face increased claims, resulting in an increased X-Mod. You should review your safety procedures to identify any significant risk areas that can be addressed to prevent employee injuries.
For business owners working alongside their employees, it is difficult to effectively consider the current state of business operations without any outside perspective. That's why BBSI Risk Managers offer a unique risk assessment checklist to business owners at the onset of our partnership. This risk assessment allows us to work together to create an action plan for improvement.
2. Establish good hiring gates
Better hiring practices lead to better employee performance, which typically results in fewer claims and higher productivity. You should consider adopting certain hiring gates to ensure your talent acquisition strategy aligns with the needs of your business. Hiring gates, like reference checks and drug screens, can be significant barriers to cross to gain employment - eliminating any prospective team members whose qualities or experience do not align with your business goals.
If you find your employee turnover rate is higher than you'd like, or if new employees are requiring more training than they did historically, your company's hiring practices may not align with the expectations of the positions you are hiring for. Start by reviewing job descriptions and comparing them to the actual expectations of the position. Any discrepancies noted should be corrected quickly.
BBSI can support this goal with HR and staffing services that help match your hiring needs with members of our extensive and diverse talent pool. A BBSI HR Consultant will help take some of the pressure off your shoulders by helping you set hiring gates that bring in better people, positively impacting your employee retention rates over time.
3. Analyze claims to identify patterns
Claims patterns are clear indicators of specific risk factors impacting an operation. If your business has experienced multiple claims with similar injuries, operational processes may need to be examined to prioritize employee safety. Patterns can also be found when a large percentage of claims are made by employees from a single department. This common thread is telling of issues with job site conditions or lack of leadership training.
Bringing in a Risk and Safety Professional to help you review your claims history may help you uncover hidden threats you hadn't yet identified.
4. Recommend training programs
Once specific patterns have been identified, training programs can be implemented for managers and front-line workers to help you reduce your risk, improve your safety culture, and lower your X-Mod and premium costs. Consider risk and safety training courses for workers and safety culture classes for managers and supervisors.
5. Turn to a non-traditional PEO
Working with a non-traditional PEO offers more than just premium relief.
With BBSI, you get a team of professionals in their specific fields of HR, management, payroll, staffing, and risk/safety management included with your workers' comp policy. This support can help you reduce risk and manage premiums, so you can focus on growing your business and achieving your long-term goals.
We Can Help You Make a Difference
If you're looking for support to lower your X-Mod, BBSI offers a unique combination of HR and risk and safety consulting to equip you with the tools and knowledge you need to mitigate workplace risks and manage your premiums. Contact a branch near you for a complimentary risk assessment today.
Disclaimer: The contents of this white paper/blog have been prepared for educational and information purposes only. The content does not provide legal advice or legal opinions on any specific matters. Transmission of this information is not intended to create, and receipt does not constitute, a lawyer-client relationship between BBSI, the author(s), or the publishers and you. You should not act or refrain from acting on any legal matter based on the content without seeking professional counsel.